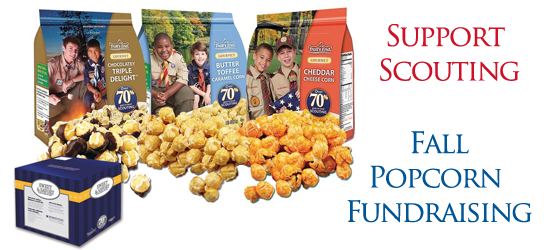 Hello!
Thanks to everyone that placed their "Take Order" order on time last week. As a council our total sales have increased this year! Great News!
Here are a few key items to be aware of as we finalize the 2016 sale:
The final distribution of product will take place on Thursday, November 10th. Please go to this link to reserve your pickup time: http://www.seqbsa.org/register/2016/popcornpickup.htm

The Fresno warehouse is located at 2855 S East Street, Fresno. (same location as the September distribution) Time: 3:00-6:00PM
The Visalia warehouse is located at 10331 West Goshen Ave (About 2 blocks west of Plaza Drive – a light green-colored building) Time: 2:00-5:00PM
Staff will be on-site to accept payment for popcorn balances due. Please bring one check for faster processing.

All popcorn prize orders must be submitted no later than November 4th. Orders are processed when your account is paid in full. Also, while all patches and prizes come from the Supply Division of the BSA, the Mini-Drones or Mini Flyers for the $600 Sellers Club are distributed through the Scout Service Centers. Every attempt will be made to have those at the distribution warehouses on November 10th if possible.
Please forward your list of TOP SELLERS ($600 and up) to albert.gallegos@scouting.org or fax to 559-320-2114 before November 10th. This list will be used to determine sellers eligible to attend the Spin & Win in December.
The list should include:
Sellers Name
Total $ sold
Email address (for the invitation if they qualify)
Invitations to the Spin & Win celebration will be sent within 2 weeks. It is targeted to be held on Saturday, December 3rd or 10th.
Any sellers that have sold $2,500 this year or in previous years should download the reporting form for Trails End Scholarships from the website. I will gladly sign off on those during November or December.
Thank you for your assistance in the success of the popcorn sale. The program delivered by every unit benefits from this sale!
Albert Gallegos | Sr. Development Director
SEQUOIA COUNCIL #027
BOY SCOUTS OF AMERICA
6005 North Tamera Avenue, Fresno, California 93711
230 NW 3rd Avenue, Visalia, CA 93291
C 559-797-1962 | B 559.320.2100 x 122 | F 559.320.2114
albert.gallegos@scouting.org